Athearn Genesis 50' PC&F Box w/10'6" Door, Illnois Central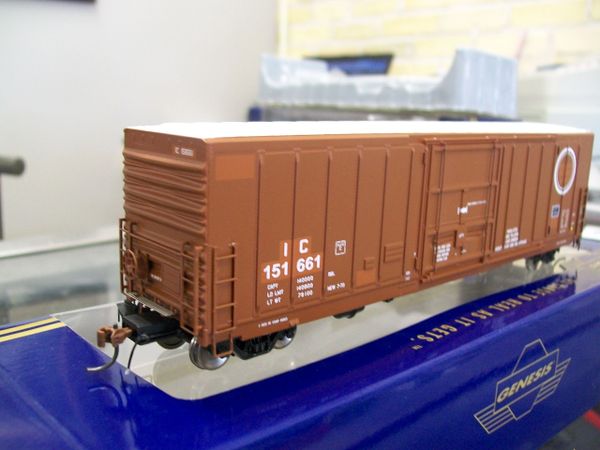 Athearn Genesis 50' PC&F Box w/10'6" Door, Illnois Central
SKU'S:
ATHG69093 Car #151659
ATHG69094 Car #151660
ATHG69095 Car #151661
For US. Customers: The price of this item is 29.99USD. Please contact me by email for an invoice in US Funds
FREIGHT CAR FEATURES:
New road numbers

Fully detailed full cushion underframe

Separately applied door closure rods, metal grab irons and etched metal end platforms

100-Ton roller bearing trucks with operating bearing caps

Era: early 1960s thru 1970s

Minimum radius: 18"

Recommended radius: 22"
GENESIS FREIGHT CAR FEATURES:
Fully-assembled and ready-to-run out of the box

Accurately painted and printed for prototypical realism

Highly-detailed, injection-molded body

Separate wireform grab irons, etched metal coupler platforms, and/or etched metal roofwalk

Coupler lift bars, trainline hoses, brake hoses, and hardware

Full underframe detail: air brake reservoir, control valve, and brake cylinder with plumbing and brake rod details

Trucks with animated rotating bearing caps

Machined metal wheels

Weighted for trouble free operation

Wheels with RP25 contours operate on Code 55, 70, 75, 80, 83, 100 rail

Body-mounted, McHenry operating scale knuckle couplers

Multiple road numbers

Window packaging for easy viewing, plus interior plastic blister safely holds the model for convenient storage

Replacement parts available