Athearn Genesis GMD GP38-2 Canadian Pacific DCC & Sound W/ Ditchlights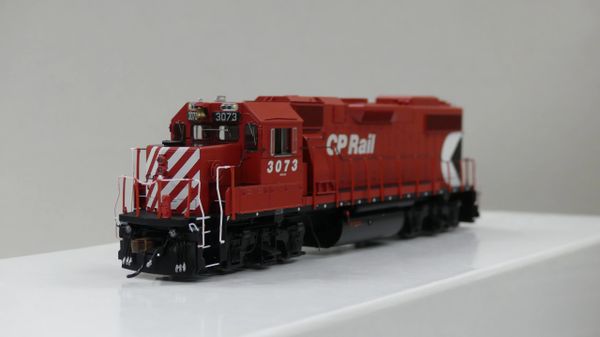 Athearn Genesis GMD GP38-2 Canadian Pacific DCC & Sound W/ Ditchlights
SKU'S:
ATHG65495 Cab# 3073 (As delivered paint scheme)

ATHG65496 Cab# 3074 (As delivered paint scheme)
ATHG65497 Cab# 3079 (As delivered paint scheme)
ATHG65498 Cab# 3084 (Painted CPR Grey & Maroon) 


If no deposit is made the order will be cancelled. If you are a US customer and which to be billed in US funds, please contact me and i can send you invoice in US funds. * 

CP FEATURES:
First time offered GMD "late" production with straight side sill, Angled blower housing and standard cab
CP style nose mounted and vertical rear headlight
Winterization hatch
Blomberg-B truck side frames with brand-new Canadian-style exposed bearing caps
CP style snow plow front and rear
Sinclair antenna
Long hood (intertial hatch) mounted Leslie 3-chime air horn
Corrugated radiator grilles
2600 gallon fuel tank with waste oil retention tank
#3084:
Painted in Maroon & Grey scheme with script lettering in 2002 to operate on passenger specials; was also occasionally used in freight service.
Fully-assembled and ready-to-run
DCC-ready features Quick Plug™ plug-and-play technology with 21-pin NEM connector
Scaled from prototype resources including drawings, field measurements, photographs, and more
Accurately-painted and –printed paint schemes
Coupler cut levers
MU hoses
Trainline hose
See through cab windows
Full cab interior
Walkway tread
Fine-scale Celcon handrails for scale appearance
Windshield wipers
Lift rings
Wire grab irons
Detailed fuel tank with fuel fillers, fuel gauges, & breather pipes
Sander lines
McHenry scale knuckle couplers - Kadee compatible
Genesis driveline with 5-pole skew wound motor, precision machined flywheels, and multi-link drivetrain
All-wheel drive with precision gears for smooth & quiet operation
All-wheel electrical pickup provides reliable current flow
Wheels with RP25 contours operate on all popular brands of track
LED Lighting for realistic appearance
Heavy die-cast frame for greater traction and more pulling power
Packaging securely holds for the model for safe storage