Athearn Genesis Ho Scale CN GP 40-2L DCC Ready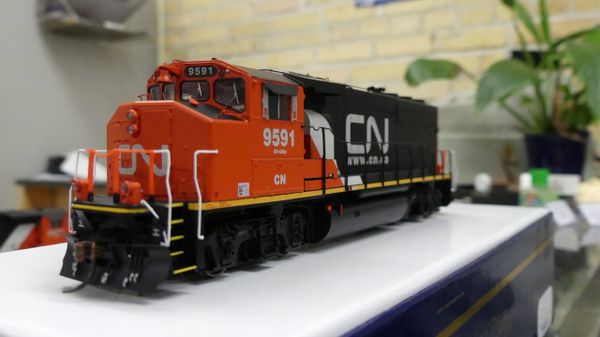 Athearn Genesis Ho Scale CN GP 40-2L DCC Ready
SKU'S:
ATHG40911 Cab #9591 Web Address Paint Scheme

ATHG40910 Cab #9544 Web Address Paint Scheme

ATHG40909 Cab #9551 North America Paint Scheme

ATHG40908 Cab #9468 North America Paint Scheme
Late CN GP40-2L body with comfort cab, ribbed anticlimber, & extra rear louvers

Single rear light

Short Canadian ECAFB

Snow shields

Airchime K3 horn

Large & small Sinclair antennas

Cab mirrors

3600 gallon fuel tank with waste retention tank

Operating Canadian style ditch lights; modeler-installed scale dummy ditch lights included

CN style plow

Cab mounted bell

Spare knuckles on brackets

Blomberg-M trucks
While many CN GP40-2Ls have been sold to other railroads, others have remained on the roster long enough to be repainted into more modern schemes. CN 9468 & 9551 represent GP40-2Ls that were repainted into the short-lived North America map scheme. CN 9544 & 9591 represent locomotives that received the modern CN web address logo. All four engines are unique in real life, and we have researched every detail to accurately reproduce them in our Genesis line.