Athearn Genesis Ho Scale GP9 Canadian Pacific DCC Ready *Pre-order*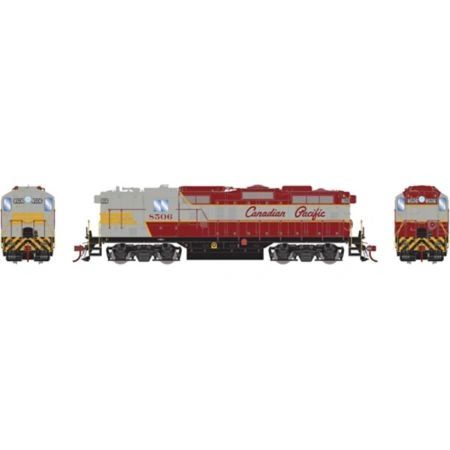 Athearn Genesis Ho Scale GP9 Canadian Pacific DCC Ready *Pre-order*
SKU #'s
ATHG78174 Cab# 8506

ATHG78175 Cab# 8512
ATHG78176 Cab# 8487
ATHG78177 Cab# 8495
*Free Shipping on Reservations placed before deadline. Only applicable to North American address except the states/provinces of Hawaii, Alaska, Yukon, Northwest Territories &Nunavut 
*Pre-Order Deadline is December 27th, 2019. Orders made after which are subjected to availability. Price is $239.99
 CDN + Tax + Shipping. Price is subject to fluctuation due to exchange with the US Dollar. Price will be based of the USD price $178.48.  No Initial Deposit Necessary. A deposit of $50 will be required upon pre-order deadline.  Shipping is not free. Shipping rate will be determined upon products arrival.

 If no deposit is made the order will be cancelled. If you are a US customer and which to be billed in US funds, please contact me and i can send you invoice in US funds. * 

CP FEATURES:
Passenger service
Phase Ia
Footboards with slotted steps
"Pipe" handrail stanchions
Inward railing bend at ends
Front as-built Pyle-National "barrel" headlights
Forward radiator intake grilles include striping trim
Steam generator intake
"Peacock" hand brake stand with brake wheel
Rooftop mounted air tanks with cooling coil and piping
Canadian-style winterization hatch
CP passenger skirts with slots
Four hose M.U. clusters with silver glad-hands
Early coupler cut levers
Drop step mounted in the vertical position
Dual early M.U. stand with M.U. and field loop connections
Slotted cab steps
Standard battery box doors
Raised seam and rectangular vent on right side of nose
Separately applied windshield wipers
See through cab windows
Early short hood forward cab interior
Cab side panel with gutter
Mirrors/wind deflectors mounted fore of cab side windows
Nathan K-3 air horn
Large Sinclair antenna
1200+1200 gallon fuel tank

#8506 & 8512:

Later scheme with script lettering

#8487 & 8495:

Earlier scheme with block lettering. No steam generator. Standard air tanks & skirts.