Athearn Genesis Ho Scale Norfolk Southern SD60I DCC Ready *Pre-order*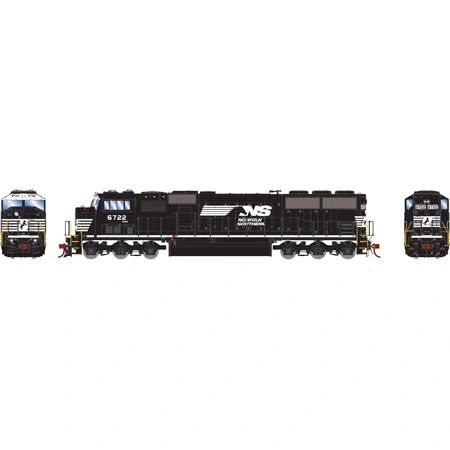 Athearn Genesis Ho Scale Norfolk Southern SD60I DCC Ready *Pre-order*
SKU'S:
ATHG67317 Cab #6722

ATHG67318 Cab #6725
ATHG67319 Cab #6730
All prices guaranteed.

*Price is
209.99CDN
+ Tax. $50 Dollar Deposit Required.
Deposit is refundable within 30 days of deposit being made*
For Customers in US, whom prefer to be billed in US funds; This is item is

161.48

USD

DUE June 2017
NS acquired several SD60Is with the breakup of Conrail in 1997-1999. Many have been painted into the current Horsehead scheme and retrofitted with roof-mounted PTC antenna arrays, as depicted on our Genesis model. Reflecting the unique nature of these locomotives (which were repainted on an individual basis), each road number features variations in number board style and lettering placement.
Paint scheme: Horsehead

First time with PTC antenna array on top of cab

New road numbers

Previous run: March 2014

Small Sinclair antenna for EOT telemetry

Small cab mirror mounted on engineer's side

Flush Conrail-style dynamic brake intake grille

EMD low snowplow

Painted-out marker lights on nose & rear

Leslie S-3L-R air horn

Large Sinclair antenna

Cab mirrors per prototype

LSL indicator light

Small auxiliary cabinet

Illuminated pilot mounted ditch lights

Recessed radiator fans