Athearn Genesis Ho Scale SD60I CSX DCC & Sound *Pre-order*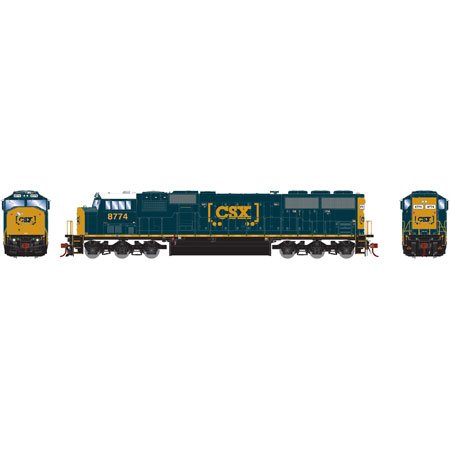 Athearn Genesis Ho Scale SD60I CSX DCC & Sound *Pre-order*
SKU'S:
ATHG67429 Cab #8734

ATHG67430 Cab #8744
ATHG67431 Cab #8774
All prices guaranteed.

*Price is
319.99CDN
+ Tax. $100 Dollar Deposit Required.
Deposit is refundable within 30 days of deposit being made*
For US Customers whom prefer to pay in US Funds this item is
246.48USD
DUE June 2017
New Features
Onboard DCC decoder with SoundTraxx Tsunami2 sound


Several CSX SD60Is have been repainted in CSX's latest scheme, featuring the "How Tomorrow Moves" slogan and boxcar logo. The units, having been repainted on an individual basis, feature distinct variations in logo placement & size. Unlike NS units, CSX SD60Is retain their Conrail-specified red marker lights. They can be found system-wide, often times working with other 6-axle GE & EMD power.
New paint scheme: Dark Future with "Boxcar" logo

Illuminated pilot mounted ditch lights

EMD low snowplow

Dummy Conrail-style "frog-eye" red marker lights on nose & rear

Nathan K5LAR24 horn

Small Sinclair antenna for EOT telemetry

Large Sinclair antenna

Cab mirrors & sunshades per prototype

Sunshades on #8774 only

Spare knuckles on rear pilot

Small auxiliary cabinet

Flush Conrail-style dynamic brake intake grille

Recessed radiator fans