Athearn Genesis Ho Scale 13,600 Gallon Acid Tank UTLX *Pre-order*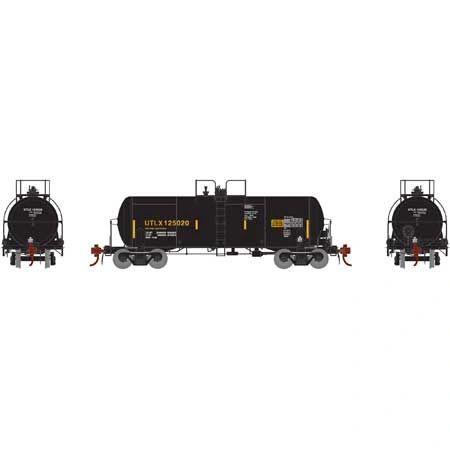 Athearn Genesis Ho Scale 13,600 Gallon Acid Tank UTLX *Pre-order*
SKU'S:
ATHG17862 Car #125008
ATHG17863 Car #125020
ATHG17864 Car #125099
*Pre-Order Deadline is July 27, 2018. Orders made after which are subjected to availability. Price is $60.99 CDN + Tax + Shipping. Price is subject to fluctuation of the exchange rate based on the USD price of $46.73. No Initial Deposit Necessary. A deposit of $10 will be required 4 months prior to products expected arrival of May 2019. If no deposit is made the order will be cancelled. A invoice with shipping total & taxes will be e-mailed within 48 hours of order being made.  If you are a US customer and which to be billed in US funds, please contact me and i can send you invoice in US funds*
For US Customers: If you wish to be billed in USD, the price is 46.73USD. Please contact me and i will send a invoice in US currency.


FREIGHT CAR FEATURES:

Highly detailed, injection-molded body

Two different body "phases" (early and late)

Different top platforms as appropriate per prototype

Different brake systems as appropriate per prototype

Many separately applied details

Separate wire grabs and handrails

Different end sills as appropriate per prototype

GENESIS FREIGHT CAR FEATURES:

Fully-assembled and ready-to-run out of the box

Accurately painted and printed for prototypical realism

Highly-detailed, injection-molded body

Coupler lift bars, trainline hoses, brake hoses, and hardware

Full underframe detail: air brake reservoir, control valve, and brake cylinder with plumbing and brake rod details

Trucks with animated rotating bearing caps

Weighted for trouble free operation

Wheels with RP25 contours operate on all popular brands of track

Body-mounted, McHenry® scale double-shelf knuckle couplers

Window packaging for easy viewing, plus interior plastic blister safely holds the model for convenient storage

Replacement parts available