Bowser (2nd Release) Ho Scale CP Rail Sm. Multi Mark (B-Unit) SD40-2 DCC & Sound W/Ditchlights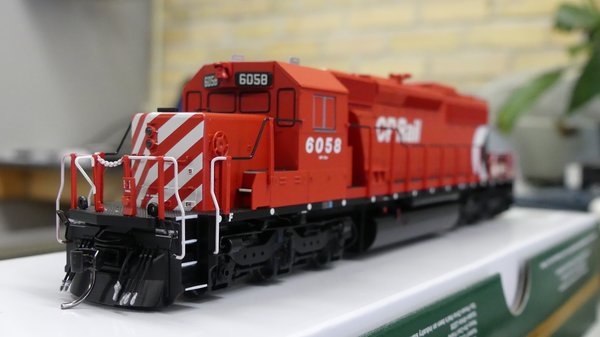 Bowser (2nd Release) Ho Scale CP Rail Sm. Multi Mark (B-Unit) SD40-2 DCC & Sound W/Ditchlights
SKU's:
Cab# 6058 Bow24473

Cab# 6062 Bow24474





Locomotive is equipped with Loksound Select dual mode decoder
*For U.S. Customers, If you prefer to be billed in USD, the price is

215.99USD

. Please contact me and i will send you a invoice in USD*
Locomotive Specific Features:
Converted to B-unit (1991) for trailing purposes only, cab windows blanked out. Later restored to lead unit (late 1997- early 1998).

102" NOSE, 5 Inch Sill, Angled Blower Housing, Roof Mounted Compressor After Cooler Pipes,
Painted Out Windows, No class Lights, Ditch Lights Removed, Winterization Hatch, Corrugated Radiator Grill Covers


Features on All models:
GMD Steps, Air Hoses, MU Hoses, Cab interior, Metal grab irons, Brass bell and bracket, Brass horn, Drop Steps, Window Glass, Wind Shield wipers, 40" wheels, RP25 flange, KD® couplers, Individually controlled class lights