Digitrax DB150 Command / Booster 5 AMP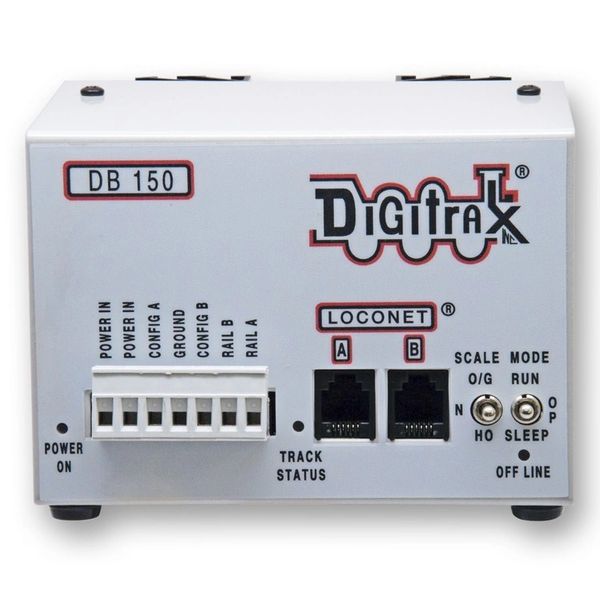 Digitrax DB150 Command / Booster 5 AMP
DB150 Command Station / Booster:
Full LocoNet Capabilities for easy plug 'n play installation and system expansion

Run up to 22 locos and 22 throttles in command station mode.

Provides additional power to run more trains in booster mode.

Can be used as an Intelligent Auto Reversing Booster

Use with any LocoNet throttle

Built in broadcast write only programmer

Built in 5 Amp Digital Command Control Booster Rated at 80VA.

Many command station options are user customizable.

Auto resetting over temperature & short circuit protection.

User selectable multi-scale operation for N, HO, and large-scale layouts

Track Status indicator shows voltage and signal type (DCC or "Zero Stretch" Analog Signal for conventional operation.)

Stabilized Track Drive Output.

Over Voltage Protected.

Sync output configures DB150 Operating Mode & connects the DB150 to expansion boosters

High impedance balanced or unbalanced signal input receivers on the LocoNet Interface allow boosting of several different types of command control signals.

Auto shutdown if command control drive signal is lost so that the layout will not convert to DC operation if a cable or connection is broken. The trains won't just "take-off" if they are not getting the DCC signal.

Complies with FCC Part 15, Class B RFI Requirements.

DCC Compatible.
Note: Accepts either 50/60 Hz AC or DC input from power supply (sold separately). Recommended power supply: Digitrax PS514 or equivalent. Maximum input 22 volts AC or 28 volts DC Minimum input 12 volts AC or 15 volts DC.