ESU Loksound Select Dual Mode Decoder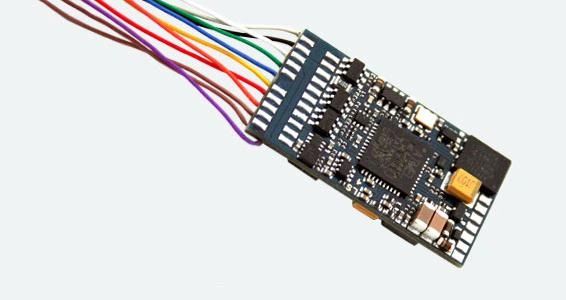 ESU Loksound Select Dual Mode Decoder
    The LokSound Select is a versatile DCC & DC "Dual Mode" decoder integrating a full-featured, 8 channel sound system, six lighting outputs and a 1.1A motor controller. While the LokSound Select only measures 1.18" x 0.59" (30mm x 15mm), due to its unique thermal design, it does (like all genuine LokSound decoders) not need any heat sinks.
We ship the LokSound Select with an 8 pin NMRA connector to make it a "plug & play" decoder. It also contains on board capacitance for smooth operation. For LokSound Select, we offer a comprehensive range of new high-power speakers, rated 4 Ohms
    Unlike all other manufacturers, LokSound Select offers you two options to customize your engine. The most simple is by using one (!) CV. You can select the prime mover sound, the desired whistle or horn and the bell. Each LokSound Select offers various options on that (see table below).
    However, if you are still unsatisfied with the result, you may at any time use the famous LokSound Programmer to download new sounds into the LokSound Select. We offer numerous "ready-made" sound packages for easy downloading.

Please contact me when you place order, by filling out contact form or by phone with prime mover you would like the decoder programmed with.