ESU Loksound Select Micro Dual Mode Decoder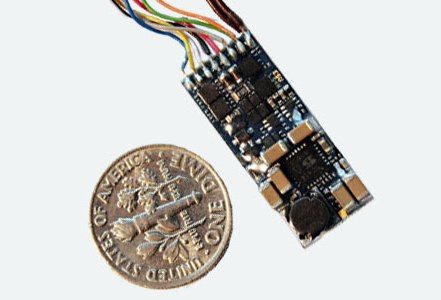 ESU Loksound Select Micro Dual Mode Decoder
     The LokSound Select Micro is a versatile DCC & DC "Dual Mode" decoder integrating a full-featured, 8 channel sound system , and a .75A motor controller. The  NEW LokSound Select Micro only measures 0.98 inch x .417 inch (25mm x 10.6mm x 3.8mm) making it the world´s smallest LokSound decoder! And, one of  the only 4 function output Micro Sound decoder on the market!
    The LokSound Select Micro is shipped with the 8-pin NEM 652 connector. This allows flexible installation in DCC-ready models. Due to its unique thermal design, it does (like all genuine LokSound decoders) not need any heat sinks.
    Unlike all other manufacturers, LokSound Select offers you two options to customize your engine. The most simple is by using one (!) CV. You can select the prime mover sound, the desired whistle or horn and the bell. Each LokSound Select offers various options on that (see table below).
However, if you are still unsatisfied with the result, you may at any time use the famous LokSound Programmer to download new sounds into the LokSound Select. We offer numerous "ready-made" sound packages for easy downloading.

Please contact me when your place order to have the decoder programmed to the prime mover of your choice