Ho Scale Tahoe Model Works ASF 70-ton A-3 trucks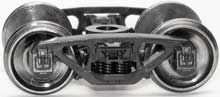 Ho Scale Tahoe Model Works ASF 70-ton A-3 trucks
American Steel Foundries' A-3 Ride Control truck was arguably the most successful design ever. Plain bearing versions were manufactured from the mid 1940s to the mid 1960s. The 70-ton trucks featured a 5'-8" wheel base and 6" X 11" journals.
Examples of 70-ton capacity cars built during this era were 3-bay hoppers, 2 and 3-bay covered hoppers, mill gons and some flat cars.

1 pair in package
All our trucks feature one-piece black acetal plastic moldings with separate brake shoe detail, and non-magnetic, insulated metal RP-25 contour wheelsets from InterMountain Railway Co. Trucks are also available with "semi-scale" (.088" wide) wheels .
TMW-110 ASF 70-ton A-3 trucks, with RP-25 wheel sets
TMW-210 ASF 70-ton A-3 trucks, with "semi-scale" wheel sets