Intermountain Railway Ho Scale C40-9W (Dash 9) Norfolk Southern DCC W/Sound *Pre-Order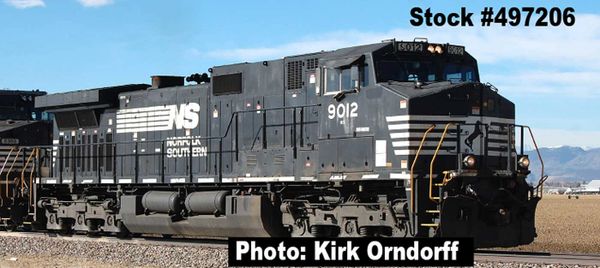 Intermountain Railway Ho Scale C40-9W (Dash 9) Norfolk Southern DCC W/Sound *Pre-Order
SKU'S:
IMRC 497206S-01 Cab # 8923
IMRC 497206S-02 Cab # 9144
IMRC 497206S-03 Cab # 9450

IMRC 497206S-04 Cab # 9866
*Pre-Order Sales: Pre-order deadline is June 30, 2016

Expected Delivery Dec 2016/Jan 2017. Price is

304.99

CDN, $100 Deposit Required. Price is guaranteed with Deposit.

Deposit is refundable within 30 days of deposit being made*
*For US customers whom prefer to billed in US dollars, this item is

224.99

USD. Please contact me by email or phone and i can send you a invoice in US currency*

*Norfolk Southern governed these locomotive to 4000hp up to a couple of years ago when they have been slowly removing all the governors from these locomotives *

This locomotive comes equipped with Loksound's Select dual mode sound decoder

In 1993, General Electric introduced the C44-9W locomotive, which quickly became known as the "Dash 9." Among the railroads to order them were Santa Fe, Burlington Northern Santa Fe, Union Pacific, Chicago & North Western and Southern Pacific. These locomotives were produced in large quantities for the these and other North American railroads until the end of 2004. The C44-9W continue in service today for their original and subsequent owners with many being given a new lease on like in various rebuild programs.
The InterMountain Railway Dash 9 will include all of the features you have come to expect from our locomotive products. The Dash 9 will be offered in multiple phases representing road specific and order specific details whenever possible. Among the variations that will be offered; Three and Four Window Cabs, Canadian Teardrop Window Cab, High and Low Headlights, and Early and Late Radiator Intake Grilles.