Rapido Ho Scale GMD-1B 4 Axle Canadian National Stripes DCC Ready W/ Ditchlights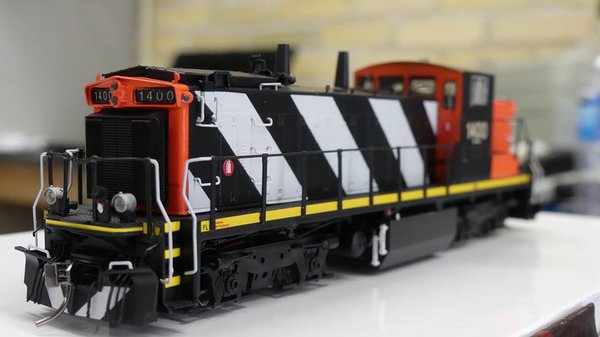 Rapido Ho Scale GMD-1B 4 Axle Canadian National Stripes DCC Ready W/ Ditchlights
SKU's:
Cab# 1400 Rap10107
Cab# 1402 Rap10108
Cab# 1409 Rap10109
Cab# 1412 Rap10110
Cab# 1416 Rap10111
Cab# 1423 Rap10112
CN followed the 1600-series rebuilds in 1988 with the 1400-series rebuilds in 1989. The main difference between the 1400s and the 1600s were the fuel tanks and trucks. With the closure or selloff of most of CN's lightweight branchlines, there was less need for six-axle units with their reduced pulling power.
The GMD-1B received a larger, 2000 gallon fuel tank and the four-wheel Flexicoil trucks taken (in most cases) from retired GP9s.
The 1400s operate long-hood forward, and our model features operating ditch lights on the long hood end.