Rivarossi Combine 60FT - Sante Fe - Car #2555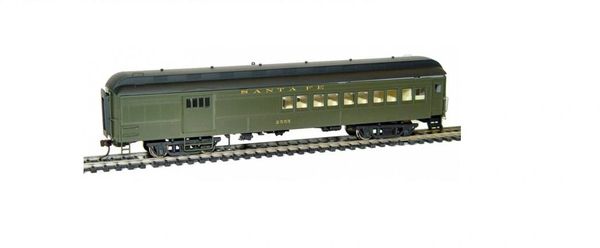 Rivarossi Combine 60FT - Sante Fe - Car #2555
Pullman Green with Gold Lettering
Car #2555
Knuckle Couplers

Complete Interiors

Factory Installed grabirons

Metal Wheels
Combines were used on shorter routes that carried fewer passengers, these compact cars featured the benefits for both a Passenger Coach and Baggage Car on the same 60 ft car utilizing all its space as much as possible. The RPO and Combine have upgraded tooling and this is the first run in over 15 years.
Santa Fe gained its reputation as a passenger train in the 20th century connecting Chicago to Los Angeles and San Francisco as well as other Southwest cities along the route.
Pullman was one of the most notorious names when it came to the railroad during the boom of train travel, producing a wide range of 60ft coaches for the various needs of the railroads.
These HO scale cars can run on a radius as small as 18in allowing them to run on compact layouts. All have updated tooling and feature knuckle couplers and factory installed grab irons. The high detailed coaches have metal wheels for lighting* the completed interiors