Scaletrains Rivet Counter Ho Scale ET44AC Tier 4 GEVO Norfolk Southern (3rd Release) DCC Ready *Pre-order*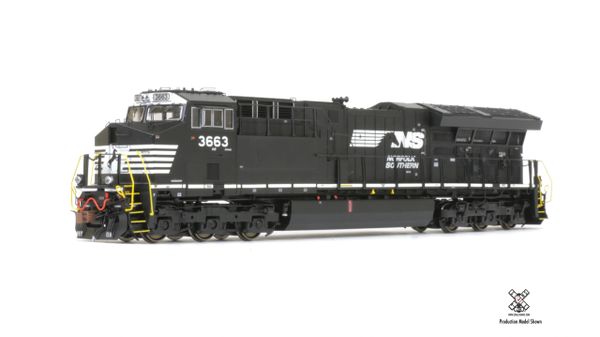 Scaletrains Rivet Counter Ho Scale ET44AC Tier 4 GEVO Norfolk Southern (3rd Release) DCC Ready *Pre-order*
SKU'S:
SXT31009 Cab#3659

SXT31111 Cab# 3664

SXT31113 Cab# 3668 

SXT31115 Cab# 3671



Pre-Order Deadline is August 27, 2018. Orders made after which are subjected to availability. Price is $
209.99 
CDN
+ Tax + Shipping. Price is subject to 
fluctuation of the USD-CDN exchange rate. The price is based on the USD price of $
154.99.
 No Initial Deposit Necessary. A deposit of $50 will be required at the order deadline. If no deposit is made the order will be cancelled.


For US. Customers, This item is priced at 154.99USD.  If you prefered to billed in US Currency, please contact me and i will send you a invoice in US Funds.


Road Number Specific:



Era: series 3647-3680, built 2017

Cab roof JEM Communications PTC antenna array

Unique to NS: high (cab) mounted headlight

Current production engine cab (long hood) with angled exhaust compartment roofline

Front deck-mounted operating alternating ditch lights

Rear anticlimber with operating alternating ditch lights

LSL indicator light details on cab sides (non-operating)

Battery charging receptacle details on front and rear pilots

ECP brake equipment box and cable details on front and rear pilot faces

Sill-mounted brake stick holder detail

Auxiliary safety latch details on cab sub-base compartment doors

Lost wax brass cast Nathan AirChime K5HLR2 horn mounted on engine cab roof

GE Hi-Ad trucks with separately applied brake cylinders, air plumbing, and rotating axle bearing caps

See through round-hole stepwell steps

Wide front and rear end handrail profile

Dual fuel fills per side (rear fill "blanked")

All Norfolk Southern road numbers also include
Rivet Counter Tier 4 GEVo ET44 Locomotives Also Feature
Six (6) different road numbers
Directional LED headlights
Printed and LED lighted number boards
Detailed cab interior with separate floor, rear wall, seats, control stand, and crossing grade camera
Etched metal see-through dynamic brake intake grilles with blower motors visible inside
See-through dynamic brake exhaust
40 individually applied etched metal see-through radiator intake and exhaust grilles on sides and top of radiator compartment
Accurately profiled frame with separately applied plumbing and cabling
5,300 gallon fuel tank with external waste retention tank
Factory-applied wire grab irons, snowplow, spare knuckles, trainline hoses, 3-hose MU clusters, uncoupling levers, windshield wipers, mirrors, sunshades, air tanks, fuel tank mounted electronic bell, brake wheel and more.
Semi-scale coupler buffer equipped with ScaleTrains.com durable metal semi-scale E Type knuckle couplers
All-wheel electrical pick-up
Motor with 5-pole skew wound armature
Printing and lettering legible under magnification
Operates on Code 70, 83, and 100 rail
Packaging safely stores model