Scaletrains Rivet Counter Ho Scale Rio Grande SD40T-2 "Tunnel Motor" DCC Ready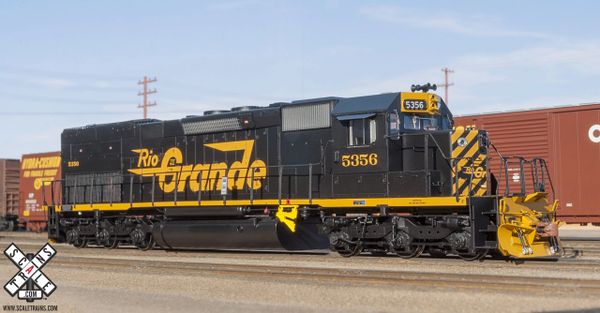 Scaletrains Rivet Counter Ho Scale Rio Grande SD40T-2 "Tunnel Motor" DCC Ready
SKU'S:
SXT31069 Cab# 5356

SXT31071 Cab# 5369

SXT31073 Cab# 5372
SXT31075 Cab# 5387
SXT31077 Cab# 5390
SXT31079 Cab# 5394
SXT31438 Un-Numbered Version #1 as-built 81" nose units (D&RGW series 5356-5362, 5368-5373)
SXT31440 Un-Numbered Version #2 88" nose with "box-mount" nose Gyralite, and PTC cabinets (D&RGW series 5386-5397)
For US. Customers, This item is priced at 169.99USD.  If you prefered to billed in US Currency, please contact me and i will send you a invoice in US Funds.
Road Number Specific 

Road numbers 5356, 5369, and 5372

Era: as-Built (1975 – Mid-80s)

Operating Mars SBW-2-301 signal light in low short hood

81" low short hood with ratchet handbrake and straight chain guard

Early cab sub-base doors with early hinges and bolted battery doors with narrow louvers

Extended-range dynamic brake housing with batten strip, and early (bolted) radiator fan access doors

Low angled lifting slots on front pilot

Rear MU hose catch pockets

Tall jacking pads with holes (early)

Sill-mounted Straddle-type re-rail frogs

Early center axle snubber

Hood door warning label stenciling and sidesill equipment trust plate 

Road numbers 5387, 5390, and 5394

Retrofitted with Positive Traction Control (PTC) equipment cabinet, and wheelslip sensors on all axles (1986+)

Operating box-mounted Pyle-National 20585 Gyralite signal light in low short hood

88" low short hood with wheel handbrake

Late cab sub-base doors with lift-off hinges and bolted battery doors with wide louvers

Extended-range dynamic brake housing without batten strip and late (latched) radiator fan access doors

High angled lifting slots on front pilot

Short jacking pads (late)

Sill-mounted "McCarty" type re-rail frogs

Handrail ends and steps painted white

Hood door warning label stenciling and sidesill equipment trust plate 

All Rio Grande road numbers also include:

Specially-designed low-profile drivetrain means the rear gear tower and driveshaft are completely hidden

Detailed see-through radiator intake compartment with front and rear bulkheads, floor treadplate, and fan motor detail

See-through etched-metal radiator intake screens

Etched-metal radiator exhaust grills with radiator shutters underneath

Operating front and rear tri-color class lights

Front EMD-style low pilot plow without MU hose doors

Sectioned treadplate detail on walkway surfaces

Cab with riveted side window panels

Nathan M-3 Horn mounted on number board housing

Large Sinclair "Ice Skate" antenna on cab roof

Early electrical cabinet "zig-zag" seam

Intermediate inertial air intake grills

Front straight uncoupling levers with "loop" handles

Rear straight uncoupling levers

Highly detailed 4,000 gallon fuel tank with fuel fillers and gauges

Detailed HT-C trucks with Hyatt bearing caps, sanding lines and brackets, and D-77 traction motor and air duct details
Rivet Counter SD40-2T "Tunnel Motor" Locomotives Also Feature

Four (4) different road numbers

Dimensionally accurate truck centers

Correct stepwell angles and dimensions

Underbody frame rail with separate plumbing and traction motor cables

Sectioned treadplate detail on walkway surfaces

Accurate hood door and long hood detail

Accurately profiled dynamic brake housings 

See-through dynamic brake intakes with resistor grid detail

Factory-applied wire grab irons, wire lift rings, windshield wipers, snowplows, horns, coupler cut levers, and trainline hoses

Semi-scale coupler buffer equipped with ScaleTrains.com durable metal semi-scale E Type knuckle couplers

Directional LED headlights

Printed and LED lighted number boards

All-wheel electrical pick-up

Motor with 5-pole skew wound armature.

Printing and lettering legible even under magnification

Color matched to Tru-Color Paint colors whenever possible

Operates on Code 70, 83 and 100 rail

Packaging safely stores model