Scaletrains Rivet Counter Ho Scale SD40-2 Burlington Northern DCC Ready *Pre-order*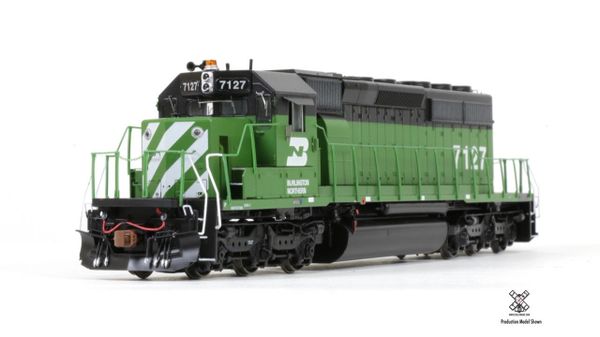 Scaletrains Rivet Counter Ho Scale SD40-2 Burlington Northern DCC Ready *Pre-order*
SKU'S:
SXT31124 Cab# 7127

SXT31126 Cab# 7146

SXT31128 Cab# 7867

SXT31130 Cab# 8023
*Pre-Order Deadline is August 20, 2018. Orders made after which are subjected to availability. Price is $
204.99 
CDN
+ Tax + Shipping. Price is subject to change due to 
fluctuation of the exchange rate. Price will be based on the USD price of $
149.99.
 No Initial Deposit Necessary. A deposit of $50 will be required at the order deadline. If no deposit is made the order will be cancelled. 
For US. Customers, This item is priced at
149.99
USD.  If you prefered to billed in US Currency, please contact me and i will send you a invoice in US Funds.


Road Numbers: 7127, 7146, 7867, 8023

BN 7127 and 7146

Phase IIc3 units built in Jan/Mar 1979 (BN 7126-7160)

Era: Late 1980s-Early 1990s
88" low short hood with ratchet brake and straight chain guard
Late sub-base doors with lift-off hinges, and BN-style latched battery doors with small louvers and lift-off hinges
Late ECAFB
Curved radiator grill grab irons
Cab with riveted side window panels and sunshade tracks w/ standard sunshade
Leslie S-3K Horn
Prime PM-8911 Stratolite beacon on number board housing
Motorola "Firecracker" antenna, and stub "firecracker" EOT telemetry antenna
Intermediate inertial intake grills
Corrugated radiator intake grills
Angled fan grabs
4,000-gallon fuel tank with dual fuel fillers, and round inset gauge on right side
Late jacking pads
Aft engineer's side sidesill notch
Tab-mount EFCO
"Tall" stepwells
Standard-range dynamic brake housing without batten strip
Straight uncoupling levers with end loops
Front EMD-style pilot plow w/ MU hose doors
Rear MU hose retainer boxes
3-hose MU hose clusters
Late axle snubbers

 

BN (C&S) 7867: Phase IIc2 unit built in Oct. 1978 (BN [C&S] 7856-7868)

"C&S" sublettering on battery box doors

 

BN 8023: Phase IIc1 unit built in Mar. 1978 (BN 8009-8029)

Era represented by configuration: As-Built
88" low short hood with wheel handbrake
Late sub-base doors with lift-off hinges, and BN-style latched battery doors with small louvers and lift-off hinges
Welded ECAFB
Cab with riveted side window panels and sunshade tracks w/ standard sunshade
Leslie S-3K Horn
Federal Standard 372 "gumball machine" beacon on number board housing
Motorola "Firecracker" comm. antenna
Intermediate inertial intake grills
Corrugated radiator intake grills
Curved radiator grill grab irons
4,000-gallon fuel tank with dual fuel fillers, and round inset gauge on right side
Late jacking pads
Aft engineer's side sidesill notch
Tab-mount EFCO
"Tall" stepwells
Standard-range dynamic brake housing without batten strip
Straight uncoupling levers with end loops
Front EMD-style pilot plow w/ MU hose doors
Rear MU hose retainer boxes
3-hose MU hose clusters
Early axle snubbers
Rivet Counter SD40-2 Locomotive Features

All-new model

Fully assembled

Four (4) different road numbers

Dimensionally accurate truck centers

Underbody frame rail with separate plumbing and traction motor cables

Sectioned treadplate detail on the walkways

Accurate hood door and long hood detail

Accurately profiled dynamic brake housings 

See-through dynamic brake intakes with resistor grid detail

Factory-applied wire grab irons, wire lift rings, windshield wipers, snowplows, horns, coupler cut levers, and trainline hoses

Semi-scale coupler buffer equipped with ScaleTrains.com durable metal semi-scale E Type knuckle couplers

Directional LED headlights

LED lighted number boards

All-wheel drive

All-wheel electrical pick-up

Dual flywheel

Motor with 5-pole skew wound armature.

Printing and lettering legible even under magnification

Color matched to Tru-Color Paint colors whenever possible

Operates on Code 70, 83 and 100 rail

Packaging safely stores model

Minimum radius: 18"

Recommended radius: 22