Scaletrains Rivet Counter Ho Scale GE Tier 4 ET44AH Gevo CSX (3nd Release) DCC & Sound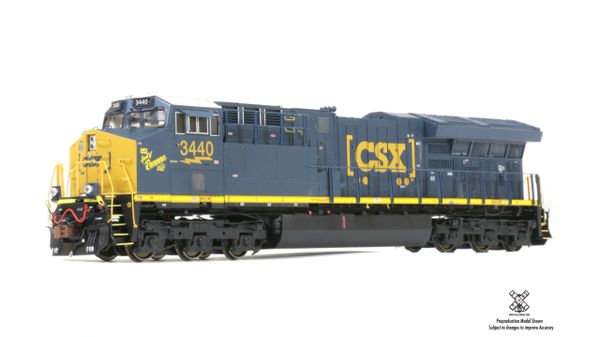 Scaletrains Rivet Counter Ho Scale GE Tier 4 ET44AH Gevo CSX (3nd Release) DCC & Sound
SKU'S:
SXT31096 Cab# 3413

SXT31098 Cab# 3420
SXT31100 Cab# 3436
SXT31102 Cab# 3465
SXT31104 Cab# 3440  "Spirit of Ravenna"


For US. Customers, This item is priced at
234.99
USD.  If you prefered to billed in US Currency, please contact me and i will send you a invoice in US Funds.
Locomotive is equipped with Loksound's Select dual mode sound decoder

3rd run road numbers (announced August 2018): 3413 and 3420
Era: series 3375-3405, built 2016

Current production engine cab (long hood) with angled exhaust compartment roofline
3rd run road numbers: 3436,3465 and 3440

Era: series 3375-3473, built 2016/2017

3440: "Spirit of Ravenna" lettering and L&N herald on both sides of the nose

A portion of the proceeds benefit Kentucky Steam Heritage Corp and the preservation of C&O steam locomotive #2716

Current production engine cab (long hood) with angled exhaust compartment roofline

First time with this type of PTC antenna:

 PTC antenna array with large Sinclair Antennas
All CSX road numbers also include
Front deck-mounted operating alternating (DCC only) ditch lights

LSL indicator light details on cab sides (non-operating)

Battery charging receptacles on front and rear pilots

Sill-mounted brake stick holder

Auxiliary safety latch details on cab sub-base compartment doors

Lost wax brass cast Nathan AirChime K5HLR2 horn mounted on engine cab roof

GE Hi-Ad trucks with separately applied brake cylinders, air plumbing, and rotating axle bearing caps

See through round-hole stepwell steps

Wide front and rear end handrail profile

Dual fuel fills per side with rear fill "blanked"

Trucolor main color matches: TCP-289 CSX YN3 Blue, and TCP-290 CSX YN3 Yellow
Rivet Counter Tier 4 GEVo ET44 Locomotives Also Feature

Six (6) different road numbers

Directional LED headlights

Printed and LED lighted number boards

Detailed cab interior with separate floor, rear wall, seats, control stand, and crossing grade camera

Etched metal see-through dynamic brake intake grilles with blower motors visible inside

See-through dynamic brake exhaust

40 individually applied etched metal see-through radiator intake and exhaust grilles on sides and top of radiator compartment

Accurately profiled frame with separately applied plumbing and cabling

5,300 gallon fuel tank with external waste retention tank

Factory-applied wire grab irons, snowplow, spare knuckles, trainline hoses, 3-hose MU clusters, uncoupling levers, windshield wipers, mirrors, sunshades, air tanks, fuel tank mounted electronic bell, brake wheel and more.

Semi-scale coupler buffer equipped with ScaleTrains.com durable metal semi-scale E Type knuckle couplers

All-wheel electrical pick-up

Motor with 5-pole skew wound armature

Printing and lettering legible under magnification

Operates on Code 70, 83, and 100 rail

Packaging safely stores model