Scaletrains Rivet Counter Ho Scale SD40-3 CSX (2nd Release) DCC & Sound *Pre-order*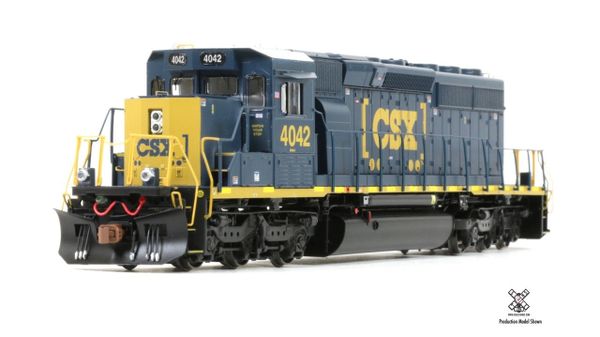 Scaletrains Rivet Counter Ho Scale SD40-3 CSX (2nd Release) DCC & Sound *Pre-order*
SKU'S:
SXT30966 Cab# 4042

SXT30968 Cab# 4046
SXT30970 Cab# 4047
SXT30972 Cab# 4049


*Pre-Order Deadline is August 20, 2018. Orders made after which are subjected to availability. Price is $
284.99 
CDN
+ Tax + Shipping. Price is subject change due to 
fluctuation of the exchange rate based on the USD price of $
224.99.
 No Initial Deposit Necessary. A deposit of $50 will be required at the order deadline. If no deposit is made the order will be cancelled. 
For US. Customers, This item is priced at
224.99
USD.  If you prefered to billed in US Currency, please contact me and i will send you a invoice in US Funds.
Locomotive is equipped with Loksound's Select dual mode sound decoder
4042 Rebuilt from CRR 8132
4046 Rebuilt from Family Lines/L&N 8122

4047 Rebuilt from Family Lines/L&N 8124, Extended-range dynamic brake fan without batten strips

4049 Rebuilt from Family Lines/L&N 8081
Era represented by configuration: 2011-present
NRE-built replacement low short hood, cab, and sub-base

Flashing front and rear ditch lights

Rotating Timken bearing caps
New front anticlimber
Nathan AirChime K5LR24 Horn
Late ECAFB
Early inertial intake grilles
"Post-'80" extended-range dynamic brake housing with exhaust silencer
Corrugated radiator intake grilles
See through standard 48" radiator fan housings with fan blades visible inside
3-hose MU hose clusters
Straight uncoupling levers with "loop" handles
"Tall" stepwells
Late jacking pads
Forward engineer's side sidesill notch
Flush-style EFCO
Frame-mounted electronic bell
Highly detailed 4,000 gallon fuel tank with fuel fillers and gauges
Digital fuel gauge
Rivet Counter SD40-2 Locomotive Features

All-new model

Fully assembled

Four (4) different road numbers

Dimensionally accurate truck centers

Underbody frame rail with separate plumbing and traction motor cables

Sectioned treadplate detail on the walkways

Accurate hood door and long hood detail

Accurately profiled dynamic brake housings 

See-through dynamic brake intakes with resistor grid detail

Factory-applied wire grab irons, wire lift rings, windshield wipers, snowplows, horns, coupler cut levers, and trainline hoses

Semi-scale coupler buffer equipped with ScaleTrains.com durable metal semi-scale E Type knuckle couplers

Directional LED headlights

LED lighted number boards

All-wheel drive

All-wheel electrical pick-up

Dual flywheel

Motor with 5-pole skew wound armature.

Printing and lettering legible even under magnification

Color matched to Tru-Color Paint colors whenever possible

Operates on Code 70, 83 and 100 rail

Packaging safely stores model

Minimum radius: 18"

Recommended radius: 22