TCS WOWKIT Athearn Genesis GP38-2, GP40-2, GP50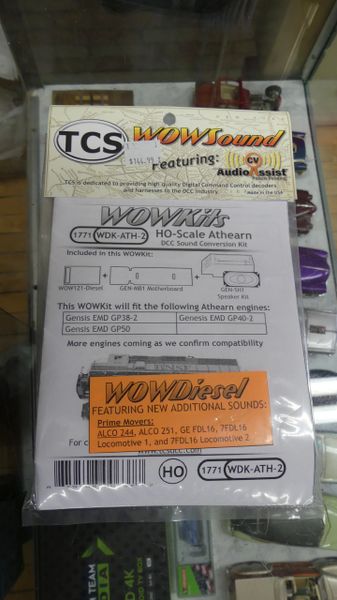 TCS WOWKIT Athearn Genesis GP38-2, GP40-2, GP50
SKU: WDK-ATH-2
This Kit is for use in:
Athearn Genesis GP38-2, GP40-2, GP50.

TCS WOW Sound decoder with 9 Prime Movers in One Decoder! This 6-function, 9-Pin JST, Kit comes with: 1x MB1 direct fit motherboard with keep alive built in, 1x TCS 21 pin WOW Diesel decoder, 1x Gen-SH1 WOW Speaker, 1x Speaker housing to go in place of weight in rear of locomotive & 1x Wire harness for speaker . Included are all of the amazing features from the WOWDiesel including Audio Assist™, Realistic Braking, and Prototypical Operation.

The available sound set contains the 567 turbo, 567 Non-turbo, 645 turbo, 710 turbo prime movers, Alco 251, Alco 244 GE FDL16, and 2 versions of the 7FDL16


Featuring Load-Based Auto-Notching (Patent Pending), for automatic notch selection based on your set speed and load.