Walthers Proto HO Scale 40' UTLX 16,000-Gallon Funnel-Flow Tank Car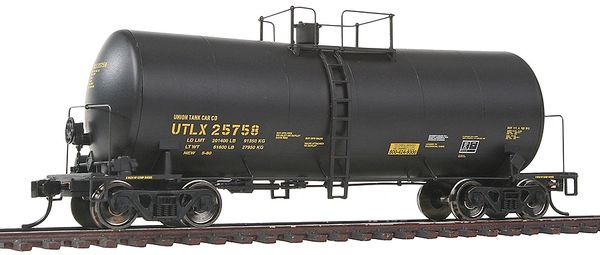 Walthers Proto HO Scale 40' UTLX 16,000-Gallon Funnel-Flow Tank Car
SKU: WAL-100117
* Limited Edition - One Time Run of These Roadnumbers!

* Used for Food Products, Chemicals, Slurries & More from 1960s to Present

* Etched Metal Walkways & Platforms

* Factory-Installed Grab Irons

* Brake Train Pipe & Brake Rigging Underbody Detail

* Road-Specific Placement of Manways & Safety Valves

* Ultra-Smooth Rolling Metal Axles & 36" Wheelsets

* Proto MAX(TM) Metal Knuckle Couplers

Developed by the Union Tank Car Company during the 1960s, Funnel-Flow cars carry all kinds of liquids and slurries (mixtures of water and other materials) that can be unloaded by gravity. The car name says it all, as the entire tank is slightly lower in the middle. Like a funnel, the contents flow towards the lowest point for faster, more complete unloading. Funnel-Flow tank cars come in several lengths to accommodate liquids of various densities, with the heaviest moving in shorter cars. As such, they serve a wide range of both producing and consuming industries, carrying all types of food products, chemicals and slurries (mixtures of material and water). Many are also fitted with internal heater coils so that loads such as asphalt and corn syrup that thicken when cool can be reheated for more complete unloading.