Walthers Proto Ho Scale George Washington Deluxe 7 Car Set *Pre-Order*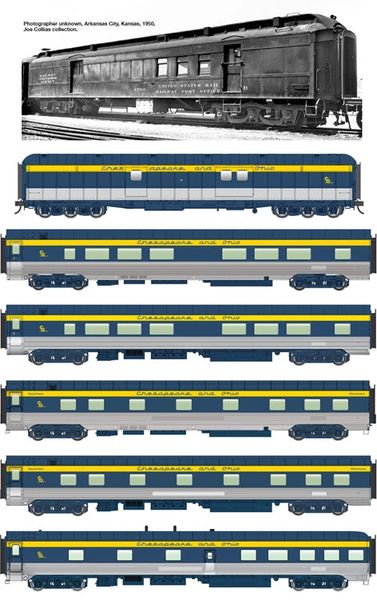 Walthers Proto Ho Scale George Washington Deluxe 7 Car Set *Pre-Order*
SKU:
920-818 Deluxe Car Set #1
920-819 Deluxe Car Set #2

*See car numbers included below*
*Pre-Order. All prices guaranteed. *Price is
879.99
CDN + Tax. $200 Dollar Deposit Required.
Deposit is refundable within 30 days of deposit being made. A invoice will be send within 48 hours with shipping & taxes added on.*
For US. Customers whom wish to be billed in US Currency this item is
639.99 USD
Fully assembled and ready for operation or display, this deluxe edition of the WalthersProto Chesapeake & Ohio George Washington features:

Sold only as a complete seven-car consist

Factory-printed car names and/or numbers

Factory-installed LED interior lighting (as appropriate)

70+ Preiser passenger and crew figures installed throughout the train

Exclusive cars arrive the same month as standard models

Limited run - only 200 of each set produced!

70' Heavyweight Railway Post Office-Baggage #52, 70' ACF Heavyweight Arched-Roof Baggage #331,
85' Pullman-Standard 52-Seat Coach Fluted with Skirts #1647, 85' Pullman-Standard 52-Seat Coach Fluted without Skirts #1618,
85' Pullman-Standard City of Charlottesville 10-6 Sleeper Plan 4167 w/Fluting & Skirts #2604,
85' Pullman-Standard City of Newport News 10-6 Sleeper Plan 4167 Fluted without Skirts #2606,
85' Pullman-Standard Blue Ridge Club Dormitory-Diner Rebuild Plan 4165 Fluted without Skirts #1923

Deluxe Set #2 Includes:
70' Heavyweight Railway Post Office-Baggage #53, 70' ACF Heavyweight Arched-Roof Baggage #329,
85' Pullman-Standard 52-Seat Coach Fluted with Skirts #1622, 85' Pullman-Standard 52-Seat Coach Fluted without Skirts #1654,
85' Pullman-Standard City of Ashland 10-6 Sleeper Plan 4167 w/Fluting & Skirts #2624,
85' Pullman-Standard District of Columbia 10-6 Sleeper Plan 4167 Fluted without Skirts #2602,
85' Pullman-Standard Bluegrass Club Dormitory-Diner Rebuild Plan 4165 Fluted without Skirts #1924