Tangent Scale Models Ho Scale Southern "Original 1977"Greenville 86′ Double Plug Door Box Car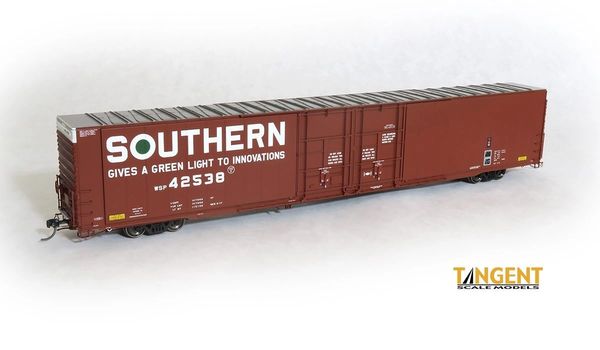 Tangent Scale Models Ho Scale Southern "Original 1977"Greenville 86′ Double Plug Door Box Car
SKU #'s
25014-05 - Car # 42513
25014-06 - Car # 42525
25014-07 - Car # 42533
25014-08 - Car # 42539


If you are a US customer and which to be billed in US funds, please contact me and i can send you invoice in US funds.
Product: Greenville 86′ Double Plug Door Box Car

Truck: Tangent 100-Ton "Low Profile" Barber S-2-C Roller Bearing

Wheels: CNC-Machined 36″ Wheels

Release Date: August 2020 (original), August 2021 (re-release with 4 new numbers)

SOU "Original 1977" is one of the truly classic schemes for these "rolling billboard" cars, complete with the "Southern Gives A Green Light To Innovations" logo. This stunningly accurate Southern Railway paint job is an exercise in details: a beautiful carbody freight car brown with the green "dot" inside the O of Southern and the "WSP" Woodhaven Stamping Plant code listing prominently displayed on the carbody. Like all 86' auto parts cars these were pooled cars and ran on designated auto part routes – check out the photo on our website of one of these cars on DRGW in Colorado! This 1977-built Greenville example features body-mounted brake rigging hanging down from the underframe and 100-Ton trucks with rotating Brenco-6 roller bearing caps, just like the prototype.