Rapido HO Scale Comet (3) Car Set Metro North (West of Hudson Scheme) *Reservation*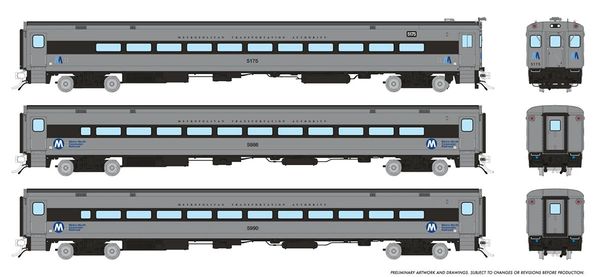 Rapido HO Scale Comet (3) Car Set Metro North (West of Hudson Scheme) *Reservation*
SKU #'s
128552 Set # 1: Cab Coach # 5175 & Coaches 5986 & 5990
128553 Set # 2: Cab Coach # 5176 & Coaches 5987 & 5992


*Pre-Order Deadline is TBA. Orders made after which are subjected to availability. Pre Order Price is $361.99
 CDN + Tax + Shipping.  No Initial Deposit Necessary. A deposit of $50 will be required upon pre-order deadline.  Shipping is not free. Shipping rate will be determined upon products arrival.

 If no deposit is made the order will be cancelled. If you are a US customer and which to be billed in US funds, please contact me and i can send you invoice in US funds. *




The Rapido HO scale Comet cars feature:

• Designed from field measurements as well as original blueprints and documents.

• Full interior detail including individual seats, and unparalleled underbody detail incl. all pipes and boxes

• Extremely free-rolling inside-bearing trucks with metal wheelsets

• Tinted windows and accurate painting and lettering

• All-wheel electrical pickup and advanced circuitry for flicker-free lighting on both DC and DCC layouts

• Coaches feature controllable interior and end marker lights using the included magnetic wand

• Cab Coach lighting controlled using the magnetic wand on both DC and DCC layouts.