Tangent Scale Models Ho Scale CB&Q "Original 1-1969" Greenville 86′ Double Plug Door Box Car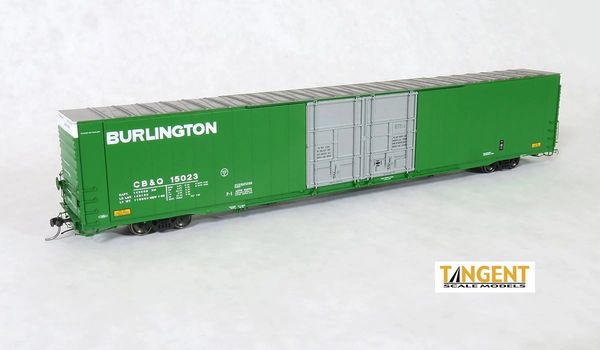 Tangent Scale Models Ho Scale CB&Q "Original 1-1969" Greenville 86′ Double Plug Door Box Car
SKU #'s
25028-01 - Car # 26753
25028-02 - Car # 26759    
25028-03 - Car # 26761
25028-04 - Car # 26764


If you are a US customer and which to be billed in US funds, please contact me and i can send you invoice in US funds.
Product: Greenville 86′ Double Plug Door Box Car

Truck: Tangent 100-Ton "Low Profile" Barber S-2-C Roller Bearing

Wheels: CNC-Machined 36″ Wheels

Release Date: August 2021
Chicago, Burlington, and Quincy (CB&Q) "Original 1-1969" is our first Greenville 86' auto parts offering for any of the "Hill Lines."  CB&Q was the only Hill Line railroad to take delivery of auto parts cars, and this release represents the first of CB&Q's two orders of Greenville prototypes.  Delivered in 1969 when the BN merger plan called for green car deliveries, these cars had their pre-merger paint scheme, complete with large "Burlington" lettering.  For return route stenciling, these cars state "When Empty Return To GTW RR Pontiac MICH" on the side.  For additional context for how far and wide these cars traveled, these cars served into Canada.  The car side has one and a half inch stenciling stating "This Car Too High To Clear St. Clair Tunnel Port Huron Michigan."  This warning lettering varied from car to car, and we have duplicated this with car-number specific and car-side specific placement of St. Clair tunnel stenciling!  The CB&Q cars feature 100-Ton "Low Profile" Barber S-2-C Roller Bearing Trucks, with 36" wheels, complete with accurate Hyatt rotating caps.