Tangent Scale Models Ho Scale Chessie B&O "Repaint 1979+" Greenville 86′ Quad Door Box Car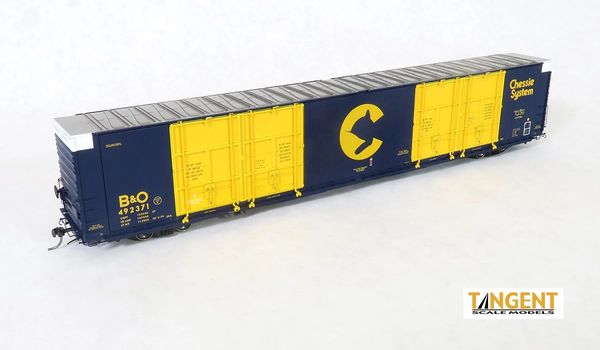 Tangent Scale Models Ho Scale Chessie B&O "Repaint 1979+" Greenville 86′ Quad Door Box Car
SKU #'s
25510-01 - Car # 492354
25510-02 - Car # 492362
25510-03 - Car # 492371
25510-04 - Car # 492383


This item will be shipped after February 16th, 2021. If this item is ordered with other in stock items, the order will not be filled until all item are in physically in store
If you are a US customer and which to be billed in US funds, please contact me and i can send you invoice in US funds.
Product: Greenville 86′ Quad Plug Door Box Car

Truck: Tangent 70-Ton Barber S-2 Birdsboro Roller Bearing

Wheels: CNC-Machined 33″ Wheels

Release Date: January 2022

B&O Chessie "Repaint 1979+" offers one of the most classy railroad logos so frequently seen on freight cars over recent decades: the Chessie "sleeping cat."  This car has the largest Chessie logo you will ever see on an HO scale freight car!  This group of cars represents the B&O Chessie Cumberland MD shops 1979 repaints of the original B&O cars, which were originally delivered in 1970.  These cars stand out with the large yellow-painted doors, white "excess height" end painting, and galvanized silver roofs.  They also include the safety-inspired "bowling ball" logo on them, as well as era-appropriate ACI and U-1 "wheel dot" stenciling!  This Greenville car features Morton style crossover platforms, an Ajax hand brake housing, accurate End-of-Car Cushioning details with truck mounted brake hardware, and 70-Ton Barber S-2 Trucks with 33" wheels and accurate "Timken" roller bearing caps.  Interestingly, B&O was the second-largest purchaser of the Greenville quad door box cars, and these eye-catchers went literally everywhere.  We are now offering four B&O Chessie numbers.  Chessie fans can now rejoice!