Tangent Scale Models Ho Scale EL "Original 1965" Greenville 86′ Double Plug Door Box Car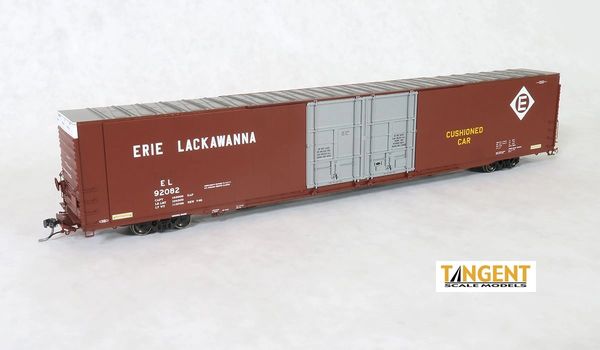 Tangent Scale Models Ho Scale EL "Original 1965" Greenville 86′ Double Plug Door Box Car
SKU #'s
25025-01 - Car # 92003
25025-02 - Car # 92010    
25025-03 - Car # 92055
25025-04 - Car # 92078
25025-05 - Car # 92082
25025-06 - Car # 92085
If you are a US customer and which to be billed in US funds, please contact me and i can send you invoice in US funds.
Product: Greenville 86′ Double Plug Door Box Car

Truck: Tangent 70-Ton Barber S-2A Roller Bearing

Wheels: CNC-Machined 33″ Wheels

Release Date: August 2021

Erie Lackawanna (EL) "Original 1965" represents the first of four Erie Lackawanna orders for Greenville 86' Double-Door box cars.  Delivered in 1965, this group of 100 cars featured Center-of-Car Cushioning with truck mounted brakes.  This car includes the large spelled out Erie Lackawanna on the left side of the car, and a large gold "Cushioned Car" and large white Erie Lackawanna diamond logo at the right side of the car.  We sweat the little details too – our model is equipped with an accurate Ajax hand brake, Apex crossover platforms and 70T trucks with 33" wheels and rotating Timken roller bearing caps.  Remember those truck mounted brakes mentioned earlier?  Yes, our trucks have the correct truck mounted brake beam to match that important detail.  Finally, this Erie Lackawanna offering was part of the Ford's Chicago Stamping Pool, resulting in an accurate Chicago Heights, Illinois return route stencil.