Tangent Scale Models Ho Scale Norfolk Southern (NW) B20 Repaint 1989+ Greenville 86′ Double Plug Door Box Car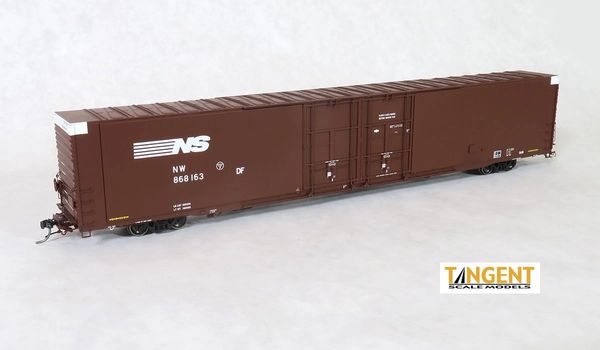 Tangent Scale Models Ho Scale Norfolk Southern (NW) B20 Repaint 1989+ Greenville 86′ Double Plug Door Box Car
SKU #'s
25026-01 - Car # 868163
25026-02 - Car # 868169
25026-03 - Car # 868172
25026-04 - Car # 868190
25026-05 - Car # 868191
25026-06 - Car # 868197
If you are a US customer and which to be billed in US funds, please contact me and i can send you invoice in US funds.
Product: 

Greenville 86′ Double Plug Door Box Car

Scale: 

HO Scale 1:87.1

Truck: 

Tangent 70-Ton Barber S-2A Roller Bearing

Wheels: 

CNC-Machined 33″ Wheels

Release Date: 

October 2021

Norfolk Southern (NW) B20 Repaint 1989+ offers one of our most requested schemes for this boxcar, a Norfolk Southern option.  These cars were painted in NS brown paint in 1989 complete with the NS logo stenciling in white.  This 1965-built Greenville group features accurate Center-of-Car Cushioning details, a Hydra-Cushion cylinder and truck mounted brake hardware.  The B20 class rides on 70-Ton Barber S-2A Roller Bearing Trucks, with 33" wheels and accurate rotating "Timken" roller bearing caps.  As a reminder, N&W was the largest original purchaser of Greenville 86' auto parts boxcars from multiple eras, and these cars literally went everywhere.