Tangent Scale Models Ho Scale Union Pacific BF-90-5 "Original 1969" Greenville 86′ Double Plug Door Box Car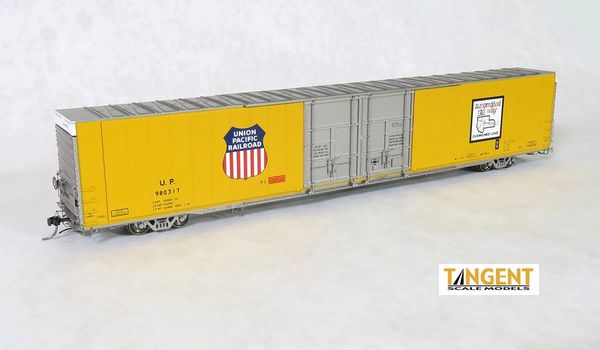 Tangent Scale Models Ho Scale Union Pacific BF-90-5 "Original 1969" Greenville 86′ Double Plug Door Box Car
SKU #'s
25033-01 - Car # 980306
25033-02 - Car # 980309
25033-03 - Car # 980311
25033-04 - Car # 980314
25033-05 - Car # 980317
25033-06 - Car # 980319
If you are a US customer and which to be billed in US funds, please contact me and i can send you invoice in US funds.
Product: 

Greenville 86′ Double Plug Door Box Car

Scale: 

HO Scale 1:87.1

Truck: 

Tangent 100-Ton "Low Profile" Barber S-2-C Roller Bearing

Wheels: 

CNC-Machined 36″ Wheels

Release Date: 

October 2021

Union Pacific (UP) BF-90-5 "Delivery 1969" represents another frequently-requested paint scheme! Accurate Union Pacific armour yellow box cars are extremely rare in any scale, but here they are from Tangent Scale Models!  UP ordered two different lots of Greenville auto parts box cars, and this lot was the earlier of the two orders.  The prototypes were delivered with very large UP 1960s stencils – the largest "Union Pacific Railroad" logo you will ever see, plus the largest "automated rail way" and "Cushioned Load" map logo that we very carefully recreated from the Greenville's adaptation of the original Union Pacific plans.  It is these sort of small details that Tangent pays attention to – not all railroad graphics are consistent from car builder to car builder.  Another cool stenciling thing about these cars?  Like ATSF, UP has a stencil that explicitly says "Auto Parts" on the side.  Return stencils are of course present on these cars: "When empty return to GTW RR Pontiac MICH."  The underframe features accurate End-of-Car Cushioning details and this UP replica rides on accurate 100-Ton "Low Profile" Barber S-2-C Roller Bearing Trucks with 36" wheels, rotating "Hyatt" caps and truck mounted brake details.