Tangent Scale Models Ho Scale GTW "Delivery 12-1969" Greenville 86′ Quad Door Box Car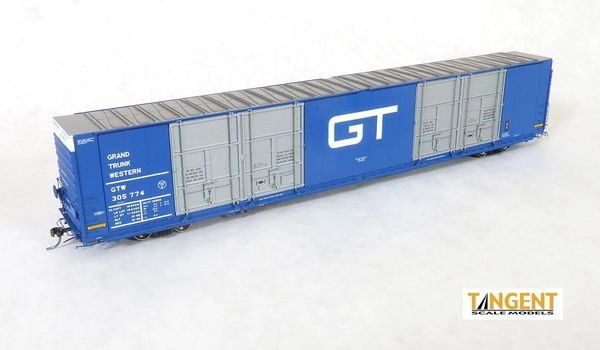 Tangent Scale Models Ho Scale GTW "Delivery 12-1969" Greenville 86′ Quad Door Box Car
SKU #'s
25518-01 - Car # 305735
25518-02 - Car # 305738
25518-03 - Car # 305742
25518-04 - Car # 305747
25518-05 - Car # 305759
25518-06 - Car # 305761
25518-07 - Car # 305770
25518-08 - Car # 305774


This item will be shipped after February 16th, 2021. If this item is ordered with other in stock items, the order will not be filled until all item are in physically in store
If you are a US customer and which to be billed in US funds, please contact me and i can send you invoice in US funds.
Product: Greenville 86′ Quad Plug Door Box Car

Truck: Tangent 70-Ton Barber S-2 Birdsboro Roller Bearing

Wheels: CNC-Machined 33″ Wheels

Release Date: January 2022

Grand Trunk Western (GTW) "Delivery 12-1969" is notable for several reasons.  First, the classy GTW scheme looks especially good on this car (in our humble opinion) with the large GT logo centered between the paired doors.  Second, GTW was the largest purchaser of Greenville's quad door box car design, making them highly statistically relevant for modelers in the US and Canada.  Painted in the characteristic GTW blue color with white stenciling, these cars are sure to be crowd pleasers and were seen widely.  The GTW cars feature their as-built 1969 appearance that includes Gypsum crossover platforms, Ajax brake hand brake housing, Greenville-applied tack board locations and that beautiful End-of-Car Cushioning underframe setup.  70-Ton Trucks with 33" wheels and rotating "Benco-6" roller bearing caps finish off this dominant offering.  Our GTW masterpieces are available in eight different numbers.